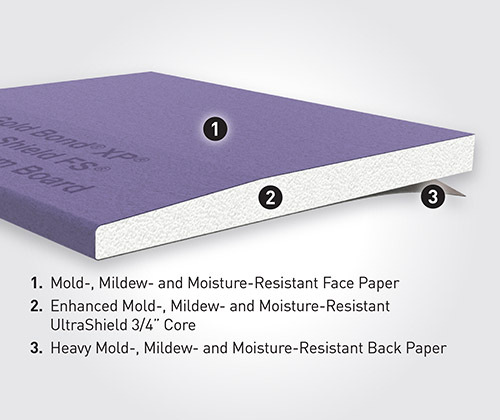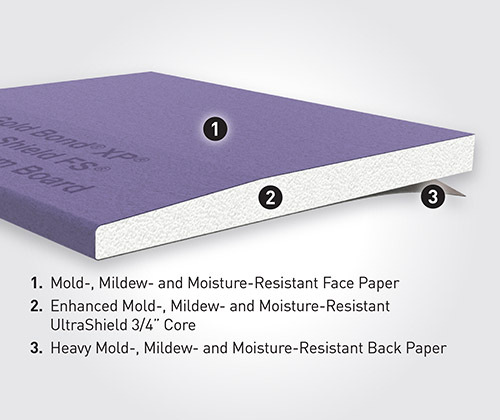 Mold & Moisture Resistant
Gold Bond® XP® Ultra-Shield FS® Gypsum Board
For single layer - steel stud and cavity shaftwall systems.
Resources
Improved moisture resistant board
Suitable for single-layer steel stud and cavity shaftwall systems, lesson labor and material costs using fewer layers (up to 10%).
Type X core is fire resistant and an approved component in UL fire-rated designs.
Mold and moisture resistant, fights the effects of moisture before damage can occur.
Gold Bond® XP® Ultra-Shield FS® Gypsum Board is 3/4" thick and consists of a mold-, mildew-, moisture- and fire-resistant gypsum core encased in 100% recycled paper on the face and back sides. The PURPLE® face paper is folded around the long edges to reinforce and protect the core, and the ends are square cut and finished smooth.
Use it for 2- and 3- hour wall partitions and 2-hour cavity shaftwall assemblies to reduce material and installation labor. The core allows one layer of 3/4" XP Ultra-Shield FS to replace two layers of 5/8" Type X, or two layers of 3/4" XP Ultra-Shield FS to replace three layers of 5/8" Type X, in specific UL assemblies.
GridMarX® are printed on the face paper surface to help installers identify stud locations and make accurate cuts without having to pencil in or snap chalk lines.
Check the Fire and Safety Information for a more complete explanation of how fire resistance ratings work.
APPLICATIONS:
For single-layer – steel stud and cavity shaftwall systems. The greater thickness provides increased resistance to fire and reduced sound transmission vs. a single layer of 5/8" Type X.
Can be used as a tile backer board in dry areas or areas with limited water exposure such as toilet/sink areas.
ADVANTAGES:
PROVIDES ADDITIONAL FIRE RESISTANCE
Features a Type X core making it more fire resistant than ordinary wallboard.
Approved component in specific UL fire-rated designs.
The gypsum core will not support combustion or transmit temperatures greatly in excess of 212°F (100°C) until completely calcined, a slow process.
UL Classified for fire-resistance and surface burning characteristics.
INHIBITS MOLD GROWTH
Helps inhibit mold growth with the highest possible score on mold tests (ASTM D3273 and ASTM G21).
Features SPORGARD® technology with extra mold-inhibiting properties.
RESISTS MOISTURE BETTER
Fights the effects of moisture before damage can occur.
Dimensionally stable product with negligible expansion and contraction under normal atmospheric conditions.
Has less than 5% water absorption per ASTM C473.
RESISTS ABUSE
Thicker core equals added abuse resistance.
INSTALLS FAST AND EASY
Features GridMarX guide marks on the board to allow for faster more accurate installation.
Save time and money with MaX 12® and MaX 16® optimized fastener patterns to achieve 1-hour fire ratings using fewer fasteners.
Lesson labor and material costs by using fewer layers (up to 10%).
Scores and snaps easily and cuts quickly, permitting painting or other decoration and the installation of metal or wood trim almost immediately.
LOW-EMITTING MATERIALS
Specifications
Products that suit any project criteria
Product Details
Performance:
Mold & Moisture Resistant, Drywall Panels, Shaftliner
Related Resources
Product details and technical documentation
Tips & Tools
Helpful resources for your next project
Design & Resource Center
Browse our digital library of tools, resources, and service options to support your team.
Learn More
Expert Connection
Gold Bond experts are ready to discuss project and product needs to meet your goals.
Expert Connection
Need Technical Information?
Call 1-800-NATIONAL®
National Gypsum Company is the exclusive service provider for products manufactured by Gold Bond Building Products, LLC.