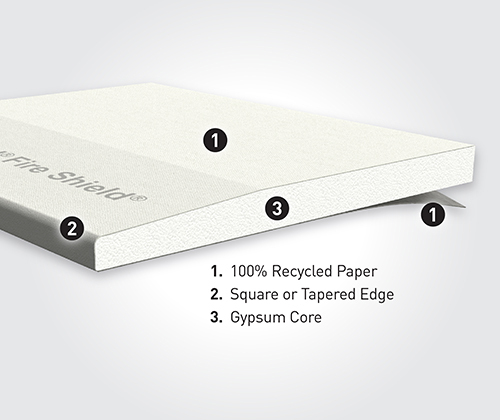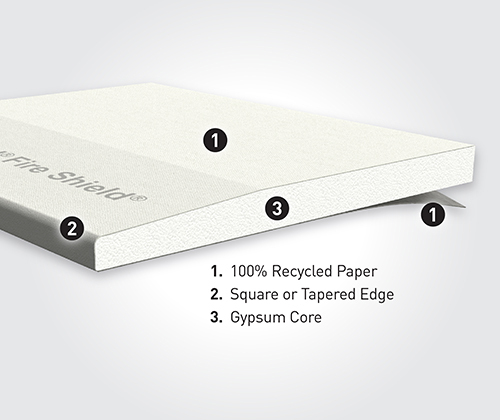 Drywall Panels
Gold Bond® Fire-Shield® Gypsum Board
For single- or multi-layer drywall construction. The greater thickness (5/8") provides increased resistance to fire and reduced sound transmission.
Resources
Increased resistance to fire
Reduced sound transmission
Fire-resistant gypsum core.
GridMarX guide marks printed on board.
Gold Bond® Fire-Shield® Gypsum Board panels consist of a fire-resistant gypsum core encased in heavy natural-finish, 100% recycled paper on the face and back sides.
The face paper is folded around the long edges to reinforce and protect the core, and the ends are square-cut and finished smooth. For speed of installation, GridMarX® guide marks are printed on the paper surface.
Long edges of the panels are tapered or square.
Fire-Shield® Gypsum Board features a Type X core to provide additional fire resistance ratings when used in laboratory tested systems.
Check the Fire and Safety Information for a more complete explanation of how fire resistance ratings work.

Advantages
Lightweight, cost-efficient material that readily accepts a wide range of decorative finishes.
Gypsum board is easily cut for quick installation, permitting painting or other decoration, and the installation of metal or wood trim almost immediately.
The gypsum core will not support combustion or transmit temperatures greatly in excess of 212°F (100°C) until completely calcined, a slow process.
Expansion and contraction under normal atmospheric changes is negligible.
Specifications
Products that suit any project criteria.
Product Details
Performance:
Drywall Panels, Ceiling Board / Panels, Factory Built Housing
Related Resources
Product details and technical documentation.
Tips & Tools
Helpful resources for your next project
Design & Resource Center
Browse our digital library of tools, resources, and service options to support your team.
Learn More
Expert Connection
Gold Bond experts are ready to discuss project and product needs to meet your goals.
Expert Connection
Need Technical Information?
Call 1-800-NATIONAL®
National Gypsum Company is the exclusive service provider for products manufactured by Gold Bond Building Products, LLC.