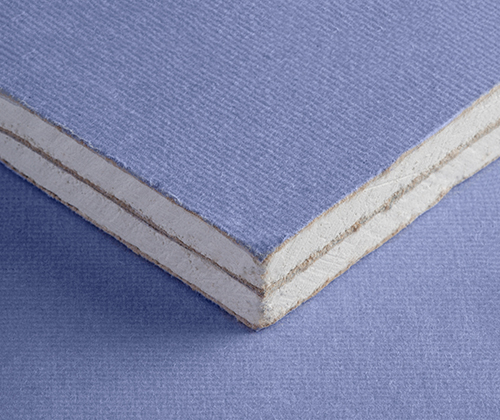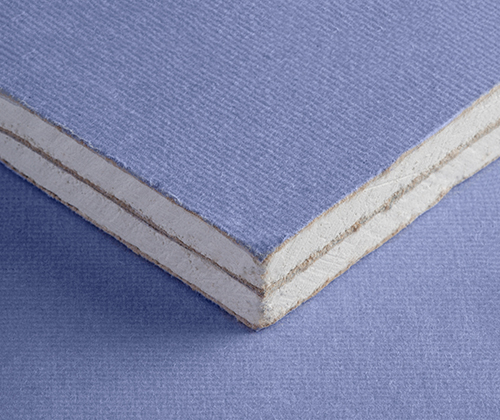 Acoustical
Gold Bond® SoundBreak XP Wall® Board
For interior wall assemblies, where sound transmission between rooms or dwelling units is a concern.
Resources
Sound Control and Damping
Dramatically reduce sound transmission between rooms
Superior sound damping, cost-efficient material that finishes easily and decorates in the same manner as standard gypsum board.
Features the GridMarX® guidemarks on the board to allow for faster and more accurate installation.
Turn down the volume when you incorporate SoundBreak XP Wall® Board into your wall assemblies. You will dramatically reduce sound transmission between rooms or dwelling units with this superior sound-damping gypsum board.
SoundBreak XP has an acoustically enhanced, high-density gypsum core encased in heavy, abrasion and mold/mildew/moisture resistant, 100% recycled PURPLE paper on both sides. Plus, SoundBreak XP provides the same great mold-inhibiting qualities as XP Gypsum Board.
Applications
Use it for interior wall assemblies, where sound transmission between rooms or dwelling units is a concern.
5/8 in. (15.9 mm) SoundBreak XP Wall Board may be used where Type X Gypsum Board is specified in fire-rated assemblies.
Advantages
Reduces Sound Transmission
Has a layer of viscoelastic damping polymer sandwiched between two pieces of high-density, mold-resistant gypsum board.
Provides high-rated Sound Class Transmission (STC) values per an independent third-party acoustical laboratory using ASTM E90 test procedures.
Works for Interior Projects

Use in a single layer or as a component of multi-layer wall assemblies.
Thinner than traditionally built high-STC wall partitions, increasing usable floor space.
Available in 1/2" and 5/8" (5/8" features a fire-resistant Type X core and is UL Classified).
Installs Fast and Easy

Installs like traditional gypsum board, without requiring additional clips and/or channels.
Finishes and decorates as easily as standard gypsum board.
Can cut by scoring deeply from both sides before snapping or by using a hand/power saw.
Features GridMarX® guide marks on the board to allow for faster and more accurate installation.
Inhibits Mold Growth
Helps inhibit mold growth with the highest possible score on mold tests (ASTM D3273 and ASTM G21).
Features SPORGARD® technology with extra mold-inhibiting properties.
Resists Moisture Better
Fights the effects of moisture before damage can occur.
Dimensionally stable product with negligible expansion and contraction under normal atmospheric conditions.
Low-Emitting Materials

Qualifies as a low-emitting material per California Section 01350 and CDPH Standard Method, v1.2. For more information, visit: calrecycle.ca.gov
Specifications
Products that suit any project criteria
Product Details
Performance:
Acoustical, Drywall Panels
Thickness(es):
1/2", 5/8"
Related Resources
Product details and technical documentation
Tips & Tools
Helpful resources for your next project
Design & Resource Center
Browse our digital library of tools, resources, and service options to support your team.
Learn More
Expert Connection
Gold Bond experts are ready to discuss project and product needs to meet your goals.
Expert Connection
Need Technical Information?
Call 1-800-NATIONAL®
National Gypsum Company is the exclusive service provider for products manufactured by Gold Bond Building Products, LLC.