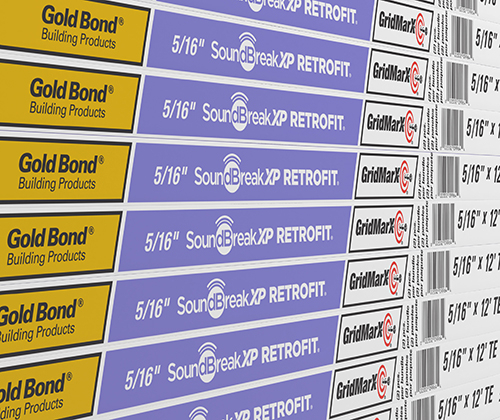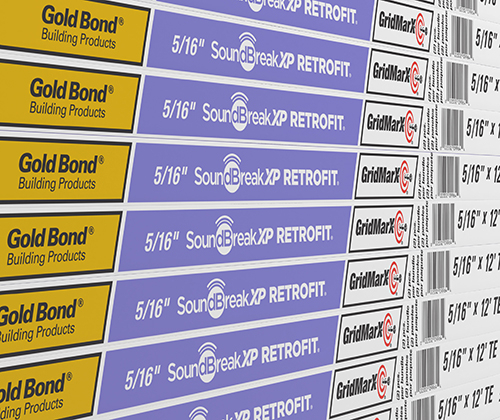 Acoustical
Gold Bond® SoundBreak XP Retrofit® Board
Improve the acoustical performance of an existing wall assembly.
Resources
Sound Control Without the Demolition
Improve the acoustical performance of an existing wall assembly
Apply over existing gypsum board walls where sound transmission is a concern.
Improves sound control without demolition.
Mold and moisture resistant, provides extra protection against mold and mildew.
Gold Bond® SoundBreak XP Retrofit® Board consists of a high-density, mold- and moisture-resistant gypsum board with specially designed PURPLE® paper on the front and a sound-damping, viscoelastic polymer adhered to the back paper. This acoustically enhanced, fire-resistant gypsum core is encased in heavy, 100% recycled paper on both sides that offers superior abrasion, mold and moisture resistance.
Use SoundBreak XP Retrofit on one side of a gypsum board wall to improve the acoustical performance by creating a constrained damping layer when installed over the existing surface.
GridMarX® are printed on the face paper surface to help installers instantly identify stud locations and make accurate cuts without having to pencil in or snap chalk lines.
If looking to reduce sound transmission in new construction, try Gold Bond® SoundBreak XP Wall® Board.
APPLICATIONS:
Use to improve the acoustical performance of an existing wall assembly, and to achieve a higher Sound Transmission Class (STC) rating for existing interior gypsum board walls where sound transmission has become a concern.
Install over existing interior gypsum board walls in residential, multifamily and commercial applications for additional sound damping between rooms or dwelling units.
ADVANTAGES:
REDUCES SOUND TRANSMISSION
When installing over an existing interior wall assembly, it enhances Sound Transmission Class (STC) values per an independent third-party acoustical laboratory using ASTM E90 test procedures.
Achieves increased STC values in a thinner wall assembly, increasing usable floor space.
Superior sound damping, cost-efficient material that finishes easily and decorates in the same manner as standard gypsum board.
INHIBITS MOLD GROWTH
Helps inhibit mold growth with the highest possible score on mold tests (ASTM D3273 and ASTM G21).
Features SPORGARD® technology with extra mold-inhibiting properties.
RESISTS MOISTURE BETTER
Fights the effects of moisture before damage can occur.
Dimensionally stable product with negligible expansion and contraction under normal atmospheric conditions.
RESISTS ABUSE
Heavy abrasion-resistant paper and dense core provide greater resistance to surface abuse when tested in accordance with ASTM C1629.
FIRE-RESISTANT MATERIAL
The gypsum core will not support combustion or transmit temperatures greatly in excess of 212°F (100°C) until completely calcined, a slow process.
INSTALLS FAST AND EASY
For speed of installation and lower installation costs, vertical board joints do not require acoustical sealant.
Installs over existing construction, eliminating the need for demolition.
Features GridMarX guide marks on the board to allow for faster and more accurate installation.
Easily scored and snapped to exact size without sawing.
LOW-EMITTING MATERIALS

Specifications
Products that suit any project criteria
Product Details
Performance:
Acoustical, Drywall Panels
Related Resources
Product details and technical documentation.
Tips & Tools
Helpful resources for your next project
Frequently Asked Questions
Ready to answer your product and installation questions
Design & Resource Center
Browse our digital library of tools, resources, and service options to support your team.
Learn More
Expert Connection
Gold Bond experts are ready to discuss project and product needs to meet your goals.
Expert Connection
Need Technical Information?
Call 1-800-NATIONAL®
National Gypsum Company is the exclusive service provider for products manufactured by Gold Bond Building Products, LLC.